Kyle turned 4 yesterday. I told him it was his birthday and he says "are we going to it". He doesn't really understand that your birthday and birthday party aren't always on the same day. I said no today is your the day you were born, the party comes later. Then I told him it was also his Uncle Justin's birthday and he said "can we go to that one". So obviously my explanation did not suit him. I took him to Target to let him pick out a new toy for a present for his birthday. We spent a good thirty minutes in 'that aisle'. You know the one with the power rangers, ninja turtles, transformers, super heroes, etc. all on the same aisle. It is about more than my sweet little boy can handle. He had to touch everything and could not make a decision to save his life. He could not be persuaded either. Finally he decided on a package of hot wheel cars. I mean we have about 9000 of these already, apparently we needed 10 more. He also got this racetrack for them that hangs on the door and the car races down and jumps through a hoop. He played with this all yesterday.
Here are some photos of my non-baby boy. He loves to smile for the camera.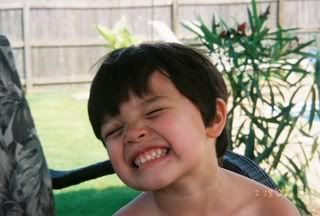 I was trying to get some nice photographer style photos with these next two, obviously not my talent. But they did turn out as some unposed shots.