Today we went to Ryan's birthday party for lunch at his home. There were 6 kids Ryan's age (3) or around there, 2 younger siblings and 1 older sibling (Kaitlyn). The moms of these children are all good friends (and all scrapbookers I might add) and one of us (not sure who) had the crazy idea to get a picture of all the kids. Yeah, like that was going to happen. Well we got some of them in the photo and then of those actually in the photo not all of them were happy about it or paying attention.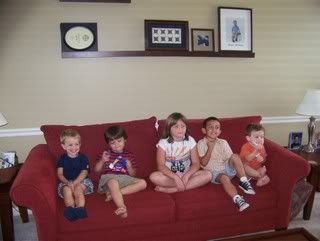 We did enjoy some "mom talk" and heard some interestingly exciting news. The kids had a fun time and the cake and pizza was really good. So kudos to you Amy for a great party (or maybe play date with extras).
Kaitlyn also had her last swimming lesson of this year. This is the second year she has gone to swimming lessons and is doing quite well. She can almost dive, just needs a little more practice. Of course my camera is broken so I had to rely on the ole 35 mm for the swim pictures, they will have to be added later.