I had to change my "mood" symbol on my myspace page today to irritated. Why you ask? I went to a baby shower today at church, I was gone for 2 hours and I come home to this: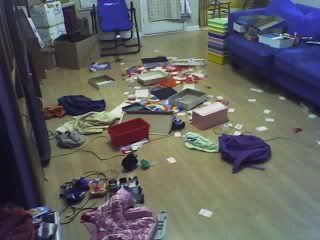 My DH (which for me means dumb husband, not dear) was sleeping while my children decided to "play" with some of my games. This is the mess that I found. The Win, Lose or Draw, Bible Trivia, Battle of the Sexes, Taboo, Pit, Mastermind, and Guesstures game pieces were all over the floor. Now of course I want them to pick up all the pieces (which has not occured yet) but then I will have to go through all of them and 'fix' it back like it is supposed to be (nice and neat). ARR, such a pain.
Then I also begin to think how much I enjoy playing these games. The group of friends that I had in college and a couple years there after would play all the time, that is why I have many of these games in the first place. Oh how I wish I had someone and somewhere to play these games with again. Those were good times.